After The Storm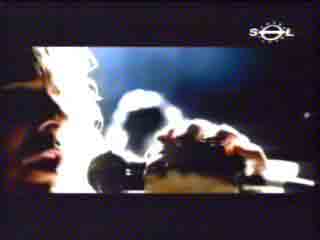 El web musical sobré el grupo Maná desde Francia: actualidad, tablaturas, gira 2002 por europa.

After years of accusations that they're too soft, rockers Maná finally enjoy silencing their critics
Long before they hooked up with Carlos Santana, Guadalajara's Maná was the best-selling pop-rock en español group ever. But that didn't stop the criticism from purists who claimed Mana's sound was too soft to be included among the best rock en español acts.
However, time has proved that all along, Maná was arguably Latin pop's most underrated band. Their live shows were always tight, and whether you liked the music or not, it was hard to argue the fact that singer/guitarist Fher Olvera and drummer Alex González were a killer songwriting team. Still, Santana's decision to invite them to record and tour with him surprised even those loyal to Maná.
After seeing them rehearse "Corazón Espinado" together, it's easy to understand what Santana saw in the Guadalajara quartet – a first-rate band that is now expert at improvising, a facet they had never exploited before.
"Corazón Espinado," nominated for Record of the Year, was subjected to three improvised incarnations during the rehearsal. Try to understand: It was Maná, not Santana, who set the pace of the rehearsal.
"We can always do it reggae," yelled González behind the drums, while Fher started singing the lyrics of the song in his best Sting tone (his pitch is so similar to Sting's, that the reggae-influenced band has often been compared to the Police). Santana smiled, turned around, looked at Alex and started strumming over Sergio Vallín's own guitar, usuallythe group's lead, but this time following the maestro. They went on for two minutes, until Alex decided to stop.

"How did you like it?," asked Alex. "I likes, I likes...", replied Santana. "Tiene mucho punch" ("It has a lot of punch"), said the multi-GRAMMY winner (Santana took eight awards at the 42nd GRAMMYs last February). It all reminded Alex of a song by Juan Luis Guerra.
"Tiene mucho punch...tiene mucho tempo... tiene mucho down... Woman del Callao", sang Alex. So "Corazón Espinado" evolved into "Woman del Callao", one of Guerra's greatest hits.
But Alex wanted more.
"How about some son, Carlos?" Carlos agreed, and with an even more subtle right hand than the one he used in "Evil Ways," the legend from Autlán, Jalisco, froze even Alex. "That's too much, man... You're killing me..." "C'mon, c'mon, keep playing," said Santana. The mid-tempo Afro Cuban version of "Corazón Espinado" finished with the power of the Woodstock version of "Soul Sacrifice," just in case there were any doubts as to Maná's ability to play with the best.
"This is no revenge for us," said Fher afterwards. "We always knew we could play, and we're proud of the fact we never talked trash about any other bands."
Maná won't be watching from the audience during the ceremony. "We prefer to watch it in our own place, with some chelas [beer]," said Fher. "But one thing I can tell you: The set up is [really] good, the sound was great, and this first Latin GRAMMYs should be supported. Of course, there will be a lot of controversy always, but our personal experience with it could not have been better. We felt great onstage."
– Enrique Lopetegui